What are Sprite Lights?
We all have a story, a style, a unique identity. With Sprite Lights you can express yourself brightly and boldly by lighting up a room when you enter – literally. Show the world who you are through patterns, colors, and animated artwork. Brighten the night with reusable light-up body art.
Use the app on your phone to create your own art or find the perfect masterpiece in the existing library. Sprite Lights are updated via Bluetooth, so they can match your mood anytime and anywhere.
The Tech
Sprite Lights consist of a small Bluetooth micro-controller, battery, charging circuit and an 8×8 LED RGB matrix. The app that controls the Sprite Light will be available on both iOS and Android and will come free with your purchase of a Sprite Light.
Our current prototype uses a Qduino controller, a custom made Flexible LED Matrix and a lithium-ion rechargeable battery. The final product will use a custom chipset which will help extend the battery life as it will draw less power than the Arduino board we're currently using.
The Sprite Lights can be affixed to your body using a reusable and washable synthetic skin.
The synthetic skin is made from hypoallergenic silicone rubber, pressure sensitive adhesives, and contains no latex. If it's dirty due to dust or other small debris it can be washed in warm water to rejuvenate its stickiness. Additionally, the medical grade adhesive is gentle enough that it will not hurt or pull out any hair when removed, but is strong enough to resist sweat and stay in place for hours.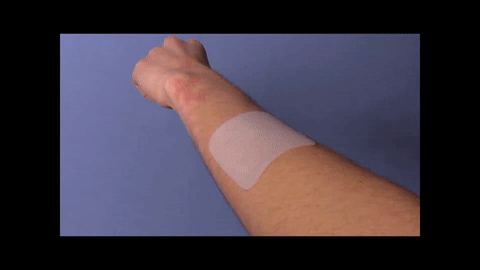 Skin is colored white to make it easy to see in the GIF, actual skin is semi-transparent.
We Are Prototyping!
Sprite Lights is in Prototype Stages. This means that the final product is going to look a little different than what you're seeing here. We've spent the last 12 months taking the project from an idea to several iterations of working prototypes. We're not done iterating yet and the final product will be thinner, lighter, and more streamlined.
Next on our road map is finalizing the technical components, building the mobile app, final prototypes and lastly mass production:
Below are photos of our prototypes featuring iterations from initial concept to our current model.
Each Sprite Light comes ready to display artwork, patterns and animations of your choosing using the app on your phone: