What are Sprite Lights?
We all have a story, a style, a unique identity. With Sprite Lights you can express yourself brightly and boldly by lighting up a room when you enter – literally. Show the world who you are through patterns, colors, and animated artwork. Brighten the night with reusable light-up body art.
---
ART EDITION
Sprite Lights Art Editions are stunning body art that is not beautiful during the day but also extraordinary in the dark. They feature custom artwork crafted out of body-safe silicone that are then inlaid with copper foil and very small LEDs. Finally they are backed with a medical grade pressure sensitive adhesive so they can be worn over and over again. They operate using common 3V coin batteries.
These are the bread and butter of what we do! If you're interested in having one custom made please use the form at the bottom of the page.
---
GLO  EDITION
We are also experimenting with low tech options such as UV reactive pigments and glow in the dark pigments. These are still in the prototyping stages and total glow length and brightness has not yet been determined. We hope to have these available for custom order later this year.
---
MATRIX EDITION
Sprite Lights Matrix Edition are still under development and are small 8×8 LED matrices that can be programmed using the Arduino IDE to display colors patterns and animations. These are targeted at Makers and folks who don't mind getting their hands dirty with a little coding.

The Sprite Lights Matrix can be affixed to your body using a reusable and washable synthetic skin.
The synthetic skin is made from hypoallergenic silicone rubber, pressure sensitive adhesives, and contains no latex. If it's dirty due to dust or other small debris it can be washed in warm water to rejuvenate its stickiness. Additionally, the medical grade adhesive is gentle enough that it will not hurt or pull out any hair when removed, but is strong enough to resist sweat and stay in place for hours.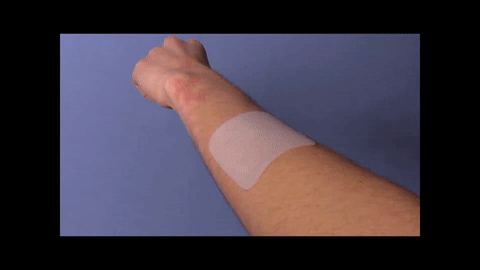 Skin is colored white to make it easy to see in the GIF, actual skin is semi-transparent.
---